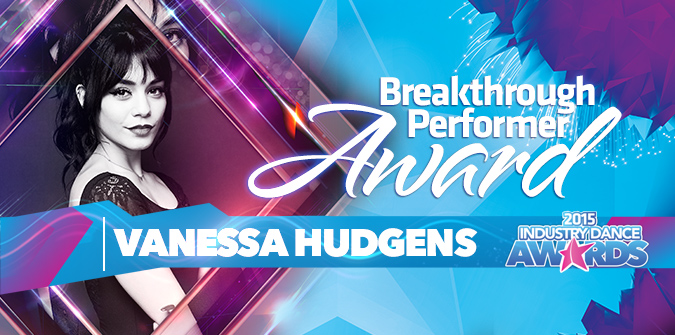 2015 Breakthrough Performer goes to….
VANESSA HUDGENS
For the first time in Industry Dance Awards history, we are presenting the Breakthrough Performer Award.
From a young age, this Hollywood starlet has proven her triple-threat talent. We've see her jump from the big screen to Broadway lights. Defined by its award title, we are pleased to present Vanessa Hudgens as the first-ever Breakthrough Performer recipient for her continued success in entertainment.
We are looking forward to see her accept her award at the 2015 Industry Dance Awards.
Learn more about Vanessa Hudgens-
Vanessa Hudgens began her career in the world of musical theatre at the tender age of 8. Immediately realizing the incredible future that lay before her, she has tirelessly pursued her dream with much success. These early roles in such productions as "Evita," "Carousel," "The Wizard of Oz," "The King & I," "The Music Man," "Cinderella" and "Damn Yankees" gave Vanessa the opportunity to showcase her impressive singing and acting skills
The recognition Vanessa received quickly brought her to the big screen. She made her feature film debut in Catherine Hardwicke's controversial "Thirteen" starring Holly Hunter and Evan Rachel Wood. Soon thereafter, she co-starred in the action-adventure film "Thunderbirds."
It was however Vanessa's role in Disney Channel's breakaway sensation "High School Musical" that has garnered her much praise and attention. With critics and fans clamoring for more, Vanessa was also seen in the films' highly successful follow ups "High School Musical 2" and the theatrical release of "High School Musical 3: Senior Year." Vanessa followed up her High School Musical hits by starring in the critically acclaimed "Bandslam" as well "Beastly" and "Journey 2: The Mysterious Island." In 2010, Hudgens won the ShoWest Award for 'Female Star of Tomorrow.'
Looking to branch out and take on some darker roles Hudgensfilmed a series of films that have surprised audiences. Most recently, in "Frozen Ground" directed by Scott Walker, Hudgensportrays the real like victim who helps solve the case of a serial murderer in Alaska. Vanessa starred opposite James Franco and Selena Gomez in one of the most talked about films of 2013 "Spring Breakers." The film directed by the controversial director Harmony Korine premiered at The Venice Film and Toronto Film Festivals. In the drama, "Gimme Shelter," directed by Ron Krauss, Hudgens plays a pregnant, homeless teenager. For this film based on a true story Vanessa spent two weeks living in a homeless shelter doing research for her character.
In January of this year, Hudgens made her Broadway debut, starring in the title role of the beloved Oscar and Tony Award-winning film and stage musical, Gigi. Vanessa will star in the live Fox musical, "Grease" alongside Julianne Hough in early 2016.
Hudgens resides in Los Angeles.