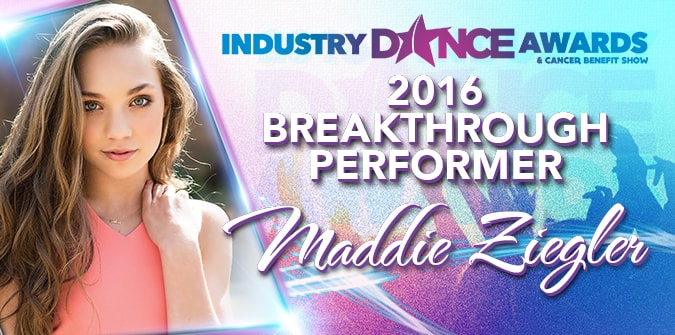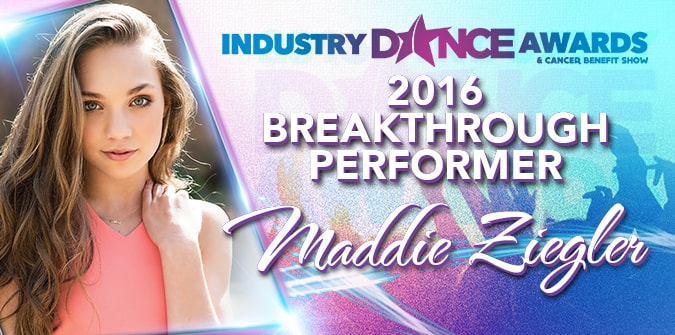 There's a reason why this talented young lady was always on the top of the ALDC pyramid! Maddie has proved her passion for dance and has come a long way since her days in the studio in Pennsylvania. Now, she has broken through reality television into a pop culture figure creating a name for herself in the dance and music industry. She has recently starred in Sia's music videos helping to bring new appreciation to modern dance in today's youth. Maddie is currently on the judging panel of So You Think You Can Dance: The Next Generation where she is inspiring a whole new generation to follow in her footsteps.
Congrats Maddie! We cannot wait to see you accept your well-deserved honor at this year's award show!
Learn more about Maddie Ziegler-
At the age of two, Maddie Ziegler knew she had a passion for performing on stage. Raised in Pittsburgh, Penn., Maddie's mother Melissa enrolled her and her younger sister Mackenzie in the Abby Lee Dance Company. Little did they know, a few years later their dance studio would be famously known and the trio would be starring in the award-winning Lifetime reality series Dance Moms.
The result of the show's immense popularity led 13-year-old Maddie to segue into becoming an internet sensation. Starring in singer-songwriter Sia's music videos (Chandelier, Elastic Heart, Big Girls Cry and Cheap Thrills). Ziegler has had the honor of performing the artistic contemporary routines on SNL, The Grammy's (2015), The Ellen DeGeneres Show (three times), The Voice, We Can Survive at the Hollywood Bowl, Dancing with the Stars (twice) and Jimmy Kimmel Live!
The dance prodigy is quickly making a name for herself as an aspiring actress with buzz-worthy roles on hit television shows such as Pretty Little Liars, Austin & Ally and Nicky, Ricky, Dicky & Dawn. She will be making her big screen debut in the upcoming Focus Features' The Book of Henry starring opposite Naomi Watts and directed by Colin Trevorrow.
Ziegler is currently a judge on Fox's So You Think You Can Dance:The Next Generation, joining Nigel Lythgoe, Paula Abdul and Jason Derulo. Earlier this year Maddie took home a People's Choice Award, where she won the DailyMail.com Seriously Popular Award.