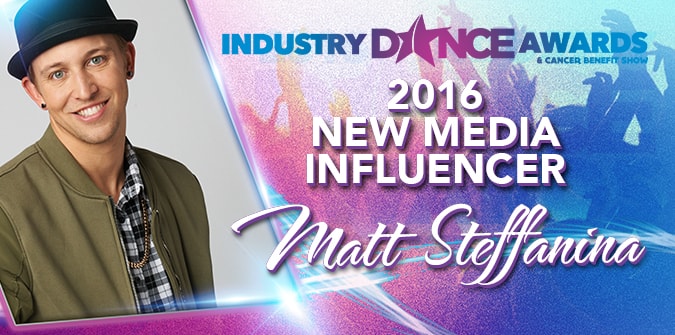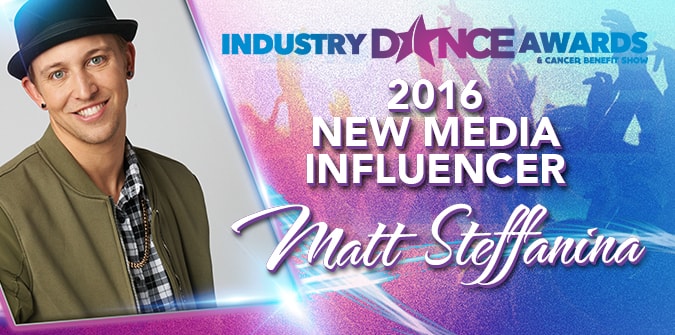 You've probably seen a ton of his dance choreography viral videos and didn't even know it! Matt Steffanina has changed the game in the dance industry. He's been able to take his innovative and explosive hip-hop choreography to help people around the world feel like professional dancers with his step-by-step instructional videos utilizing the power of YouTube.
With over 1 billion followers, fans are chained to their laptops waiting for the next video of innovative choreography set to the latest pop hit. Matt's down-to-earth spirit, dope moves, and effortless swag make it easy to love him and we look forward to many years of his influence.
Congratulations! Can't wait to see you at the Industry Dance Awards!
Learn more about Matt Steffanina —
Matt Steffanina began dancing at age 18 in a small town in Virginia. Influenced by Michael Jackson, Usher & Chris Brown his style of hip hop quickly caught on throughout the east coast. He made the move to Los Angeles in 2010 and landed his first professional job dancing on 'The Tonight Show with Jay Leno'. Since then his credits have grown to included Taylor Swift, The Ellen Show, So You Think You Can Dance, The Amazing Race, Radio Disney Awards, American Music Awards, Snoop Dogg, Chris Brown and more. Matt has taught in over 25 countries and his classes are sold out weeks in advance. He is also a headlining faculty member of The Pulse, and has the largest online dance channels in the world with over 7 Million YouTube subscribers & 1 BILLION views.