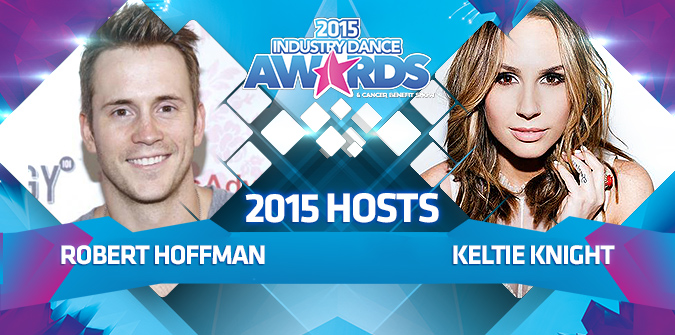 We are proud to announce the hosts of this year's Industry Dance Awards!! Robert Hoffman, on-air personality known for his comedic parodies and viral hits, returns to co-host the special event. Joining him on the IDA stage is Keltie Knight, entertainment correspondent of CBS's The Insider. The combination of their wit and love for dance will make this show a night to remember. Shall we request a ballroom duet?!
Get to know the hosts…
Keltie Knight Bio
A former classical ballerina and Radio City Rockette from Sherwood Park, Alberta, Canada. Currently a correspondent and weekend host of CBS's The Insider, Keltie has interviewed the biggest celebrities in the world including Oprah, Taylor Swift, Pink, Miley Cyrus, Alicia Keys, Mariah Carey, U2, Stevie Wonder, Adam Levine, Tom Hanks, Julia Roberts, Bradley Cooper, Jennifer Lawrence, Amy Adams, and Gwenyth Paltrow.
She began her broadcasting career hosting an episode of CMT's Top Twenty Countdown as a promotional campaign to promote The Radio City Christmas Spectacular. She was the In-Arena live host for the New York Knicks and soon after, Keltie became the music host for LiveNation Entertainment. She also served as host of the CW's 'World Dog Awards' with George Lopez, theCW's 'Greatest Holiday Commercial Countdown' and US Weekly's 2012 Emmy Awards "Live From The Red Carpet". Keltie has appeared as a dance expert on both Bravo's Millionaire Matchmaker and the live Dancing with the Stars Afterparty, as well as a music expert on ABC's Duets, and the social media host for ABC Family's Live after-show "Behind the Curtain." She's also appeared on ABC, BRAVO, OXYGEN, The Talk, and The Huffington Post, and as a mediator for various panels for Vanity Fair. Based on her love of music, Keltie created and produced the web-series "fangirl" for theinsider.com that received over 15 million views in the first 8 months. Her latest web project, hosting "The Insider with Yahoo Update" for Yahoo Celebrity has been viewed by over a billion people. Recently, she made a cameo appearance featured in Sharknado 3: Oh Hell No
Keltie was one of the first bloggers when the rise of new media began, and after 10 years of sharing her life online she has built up a loyal fan base, with thousands of fans across a multitude of major online platforms. Her blog receives over 12 million views a month from a collection of over 3.3 million unique visitors. A self proclaimed "internet junkie" she is always at forefront of trends in social media and pop culture. Keltie is also a budding fashionista with best-dressed mentions in Vogue, Elle, Glamour, Just Jared, US Weekly, The Daily Mail, People Stylewatch and The New York Times.
Robert Hoffman Bio
Robert Hoffman returns as host for the 4th annual Industry Dance Awards. Known best for playing the lead role in "Step Up 2 The Streets" which won him an MTV
Movie Award for Best Kiss, winning an American Choreography Award for his work on
"You Got Served", his team ups with Ellen Degeneres to make Dance Prank videos, and his internet video sensations "The Yes Dance" and "Contemporary Eric",
Robert Hoffman has lived a career most people dream of. Robert found his love for teaching at a young age and has taught
extensively on a national and international level with some of the biggest conventions in the world. His acting credits include Aliens In the Attic,
MTV's Wild 'N Out, She's The Man, 90210, and host of TruTV's Fake Off.